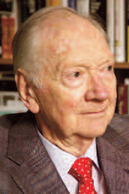 William Houston joined the Royal Navy at the end of the Second World War and specialised in weapons. After leaving the service, he qualified as a chartered engineer and an administrator before embarking on a career as a company recovery specialist either directing or advising a wide range of industrial and commercial concerns. For ten years he was an industrial advisor to a merchant bank before taking up a career in writing. His first book Avoiding Adversity was published in 1989 advising managers how to survive the following recession.
He then became interested in the cycles of the world including economics, climate, politics, warfare, disease, and wrote Riding the Business Cycle, Future Storm and Water: the Final Resource – the latter two co-authored with Robin Griffiths, a noted technical analyst and investor.
He subsequently became the principal of The School of Global Recovery.
William's books published by ADVFN: