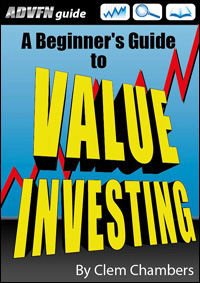 The stock market is not only for rich people, or those intent on gambling. 'Value Investing' is how Warren Buffet became the richest man in the world. A method of investing in the stock market without taking crazy risks, 'Value Investing' will help you build your fortune, no matter the economic climate.
Clem Chambers is the CEO of ADVFN, Europe's leading stocks and investment website. He has been described as "A market legend" by Robbie Burns, author of The Naked Trader. In this book he explains how value investing works in seven, easy-to-digest chapters.
Perfect for novice investors, the book clearly outlines how to choose the best stocks and how — thanks to the Internet — it's now possible to access trading tools that would have once cost thousands of pounds, completely free.
With added advice on how to monitor your stocks and when to sell them, and Chambers' own special rules for weeding out bad companies that appear good on the surface, A Beginner's Guide to Value Investing is the perfect way to ensure you 'get rich slow' with minimal stress.
Click the cover below for a preview of the book: