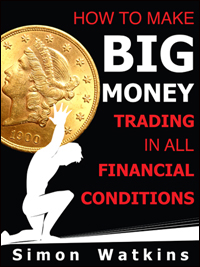 The markets are going through a period of turbulence right now, but even in periods of low market volatility there's always some asset, somewhere in the world, that oscillates in price sufficiently to offer traders opportunities to make big money. The trick is to know what the asset is, to identify whether it's trading higher or lower than it should be, and to have the skill, speed of thought and tenacity to take advantage of it.
In the follow up to his book Everything You Need To Know About Making Serious Money Trading The Financial Markets, Simon Watkins covers changing volatility patterns, risk-on/risk-off trading, how to find value in emerging markets and long-term global economic cycles. He outlines more fundamental principles that should guide your trades and trading methodologies to help you succeed.
Fully illustrated with detailed charts, the book shows how you can use technical analysis to make your decisions, how to manage your risk and how to take out hedge positions to offset possible losses.
Click the cover below for a preview of the book: