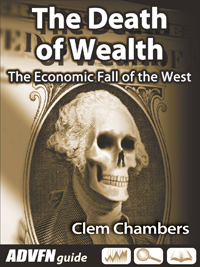 Question: what is the next economic game changer?
Answer: The Death of Wealth.
Market guru Clem Chambers dissects the global economy and the state of the financial markets and the world's economies and lays out the evidence for the death of wealth.
The Death of Wealth flags up the milestones on the route towards impending financial disaster. From the first tentative signs of recovery in the UK and US markets at the start of 2012, to the temporary drawing back from the edge of the Fiscal Cliff at the end, the book chronicles the trials and tribulations of the markets throughout the year.
Collecting together articles and essays throughout the last twelve months along with extensive new analysis for 2013, The Death of Wealth allows us to look at these tumultuous events collectively and draw a strong conclusion about what the future holds.
With an introduction by renowned market commentator and stock tipster Tom Winnifrith and a summary by trading technical analyst Zak Mir, this collection chronicles the rocky road trip the financial systems of the world have been on, and predicts the ultimate destination: the death of wealth as we know it.
Click the cover below for a preview of the book: