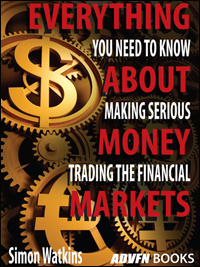 All over the world, people are trading on the financial markets. Some of them make a fortune – and many more lose their shirts. This book tells you how to be one of the winners.
It's a stark and sobering fact that around 90% of retail traders lose all of their trading money within about 90 days. That's because they have little grasp of the realities, technicalities, psychology and nature of the financial markets. In short, they don't know what they are doing.
Everything You Need To Know About Making Serious Money Trading The Financial Markets teaches you how to avoid being one of the 90%, and explains how to stack the odds firmly in your favour so you can become one of the 10% that make life-changing money trading. It's a trading bible that covers all aspects of the subject, from the psychology of trading and the mindset you need to succeed, through the fundamental principles that should guide your trades, to the trading methodologies that will help you succeed.
Fully illustrated with detailed charts, the book shows how you can use technical analysis to make your decisions, how to manage your risk and how to take out hedge positions to offset possible losses.
Click the cover below for a preview of the book: