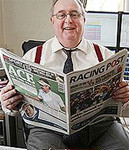 Simon Cawkwell, aka Evil Knievil, is a prominent spreadbetter who is highly successful at betting on companies whose share prices he believes are going to fall.
He has earned the title 'The King of Short Sellers' and built up a legendary status. Best known for publicly identifying companies whose share price he believes are going to fall, his share dealings can make or lose him hundreds of thousands of pounds in a day — and when he takes a position on a stock, his actions can inflict serious damage on a company.
He is Britain's best-known bear-raider, the man who first exposed the accounting fraud of Robert Maxwell, and his background as an accountant gives him unrivalled skills to unravel accounting fraud or irregularities.
A puncturer of pomposity, Evil Knievil is always prepared roundly to declare that the emperor is stark naked.
ADVFN publishes a Kindle edition of Simon Cawkwell's book Evil's Good: Book of Boasts and Other Investments.
Simon's book: