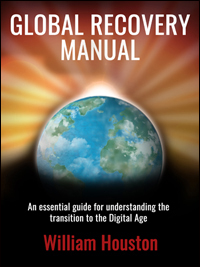 The world is suffering some of the greatest natural and man-made imbalances ever, creating a watershed in global affairs that has not been present for centuries. These are driving many people in the Western World into a sense of despair that is endangering their jobs, homes, savings and pensions. At the same time their elected representatives either do not seem to understand or even care what to do next. Like the Roman emperors towards the end of the Empire, they meet with great ceremony and make pronouncements – yet nothing happens. It is called 'kicking the can down the road' in the vain hope that the danger will either go away or someone else will take responsibility.
The Global Recovery Manual explains how we can get out of the mess and advance into the uplands of the Digital Age. It describes the headwinds, how to speed up reaction time, preparing a state and business for tough times and managing inflation/deflation. It gives special emphasis to how the state should help rescue the individual from the no-longer-affordable welfare state and help them through difficult times into the Digital Age and greater freedom. This has to be an essential element in any recovery programme to alleviate the human tragedy in Europe, and elsewhere, without a revolution.
This manual has been written for all those in any sort of authority as a guide for action in the hope that a dark age in human affairs may be passed through with the minimum of human suffering. Additionally, if the future is to resemble the past, the present adversity will generate a blossoming of individual creativity probably not seen for centuries. They will be working with the grain of history.
Click the cover below for a preview of the book: