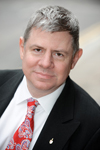 Clem Chambers is a freelance journalist covering global finance, economics and investing.
He is CEO of ADVFN, a global stocks and shares information website, author of the Amazon No.1 Bestseller 101 Ways to Pick Stock Market Winners and a Forbes and IET (Institute of Engineering and Technology) columnist. He has been nominated for PPA business columnist of the year 2016 and 2017 for his writing in the latter. In June 2017 he won silver in the Tabbie Awards for his Money and Markets column in E&T Magazine.
A broadcast and print media regular, Chambers is a familiar face and frequent guest presenter on CNBC and CNBC Europe. He has been a market commentator and guest on the BBC, Fox News, CNBC Arabia, Newsnight, Al Jazeera, CNN, SKY News, TF1, Canada's Business News Network and numerous US radio stations.
Clem has written investment columns for Wired Magazine, Business Mirror, Inversionista, Index Trader, Traders, Gulf News, YTE, RiskAFRICA and the Scotsman and has been a commentator for The Daily Mail, The Daily Telegraph, The Guardian, The Independent and The Daily Express.
Clem's books: