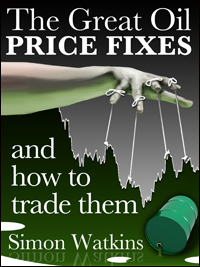 Reviews
(Watkins') ethos is knowledge equals power equals money, so in other words, the more information you have, the better decisions you can make when it comes to trading… Watkins goes to great lengths to lay the groundwork of what he calls 'the oil market'… Watkins explains how traders can capitalise on the oil market to make large amounts of money using various trading mechanisms and techniques. These are equal parts intimidating and enlightening for the uninformed but would no doubt prove empowering for those who understand trading and the terms used here more explicitly. This book is an incredible journey into the heart of trading on the oil markets, one that for those who heed it wisely, could potentially lead to millions earned in oil market trades. Highly recommended.
The Edge (October 2015 issue)
I had originally purchased The Great Oil Fixes since there was such a paucity of material related to oil trading and speculation... (all your books are) uniformly excellent. I have learnt a tremendous amount from them, despite already having been in the business for several years... The technical analysis aspects provide simple but robust tools to keep one on the right side of the major market moves.
Gerard de Condappa, Head – Asia Pasific at REFCO Trading Services
If you have reviewed The Great Oil Price Fixes And How To Trade Them, tell us about it - click here to send us email.